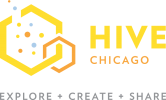 At this week's Chicago OpenGov Hack Night, Robert Friedman and Kyla Williams spoke about the Hive Learning Network and the collaborative projects that we're launching with the Hive Learning Network.
Robert Friedman started the presentation off my talking about what the HIVE learning network is.
Over the last five years, Hive Chicago has emerged as a thriving network of 57 local member organizations across the city of Chicago – joined by dozens of local, national and international collaborating partners – to motivate, inspire and support Connected Learning experiences for thousands of young people who go to the museums, nonprofits, and cultural institutions that make up the network. Open Gov Hack night attendees will recognize Blue 1647, Civic Artworks, and Open Books— some of the members of Hive.
Connected Learning is an educational approach designed to make learning relevant to all populations, to real life and real work, and to the realities of the digital age, where the demand for learning never stops.
Friedman mentioned six moonshots that the Hive Chicago is currently aiming for. These include: Making connections between the Hive and CPS parents, youth engagement, building onramps to connected learning, transportation and a think tank.
Our Director of Operations Kyla Williams also presented and talked about some of our work, including Time to Tech, #CivicSummer, and the Hive Mapping Cooperative, and also how the civic tech community can get involved in the network.​
You can get more information about the Hive Network here.