Members of Chicago's digital access and skills community come together every month to hear a presentation from a Connect Chicago Corporate Partner and a Connect Chicago featured program. Join us! Sign up at Meetup.com.
On November 12th, the Connect Chicago network of trainers, nonprofit professionals, public servants and corporate partners convened to discuss the potential of mobile platforms, especially as they related to connecting special need populations.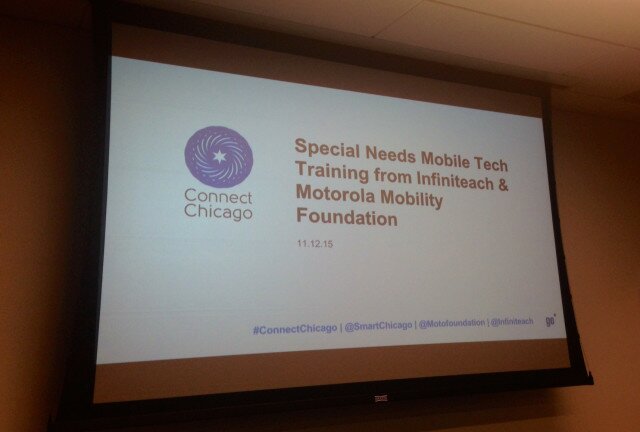 Featured guests for this Meetup included the Motorola Mobility Foundation and Infiniteach. The Motorola Mobility Foundation sits on Connect Chicago's Technology Advisory Council. We met Infiniteach through Smart Chicago's resident membership at Literacenter.
Glad to see @chipublib @danielledumerer @JoshKalov @HoorayLearning @GalvanizeLabs @BLUE1647 at #ConnectChicago pic.twitter.com/hQKS5u1OF7

— Denise Linn (@DKLinn) November 12, 2015
Motorola Mobility Foundation's Work in Chicago
Monica Hauser, the Foundation Manager at the Motorola Mobility Foundation, overviewed the history of Motorola in Chicago. Motorola is actually a Chicago-born company.
Monica Hauser of @motofoundation talking wearable devices, chi STEM investments, tech access work #ConnectChicago pic.twitter.com/6f8SWYBs49

— Denise Linn (@DKLinn) November 12, 2015
Monica talked about Motorola's strategic focus areas in Chicago: STEAM education, technology entrepreneurship, and tech access. Why the "A" in STEAM? Monica explained that many young girls are introduced to technology and science through the arts. Incorporating the arts helps the whole pipeline.
At the @connectchicago meetup listening to cool things from @Motorola mobility foundation pic.twitter.com/IWJSVRrFBI — CivicBLUE 1647 (@CivicBLUE1647) November 12, 2015
Given the theme of the Meetup, Monica shared the Foundation's tech access work and resources: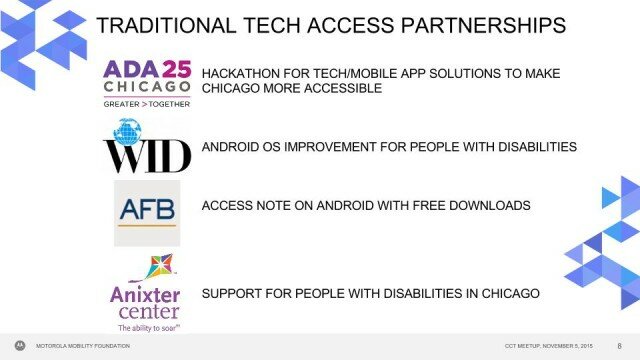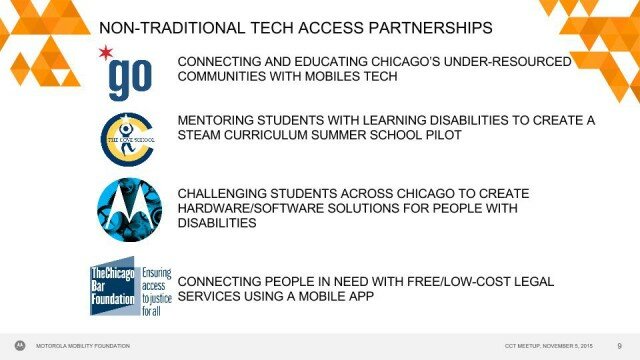 One of the highlighted projects from Monica's presentation was a mobile app developed with the  Chicago Bar Association that connects Chicagoans to free and reduced price legal services. In general, Monica emphasized how the Foundation aims to build with its partners and truly make new, in-demand programs and services for residents.
Infiniteach
The Infiniteach team is focused on tech accessibility for autistic learners. If you haven't heard of this social enterprise, below is a great overview of their philosophy and teaching products:
The Connect Chicago Meetup group heard from Infiniteach co-founder Christopher Flint. He explained that Infiniteach uses technology for what it's good for – scaling, customization, and data collection. They leave student assessment to the expert, response humans.
Talking tech accessibility with @SmartChicago @motofoundation #connectchicago pic.twitter.com/FHRv7v9VMa

— Infiniteach (@Infiniteach) November 12, 2015
It's clear that a lot of user-centered thought went into this mobile learning tool. Infiniteach ipad app feeds students lessons customized to their interests. The app focuses on social learning as well as traditional educational learning. Two-player activities emphasize engagement and taking turns. All the activities have data so teachers and parents can track progress over time. A staggering fact that Infiniteach shared: 99.9% of adults with autism are not employed full time. Infiniteach is also interested in using technology to workforce development and job readiness skills for people with autism.
Lessons Learned: Leveraging the Power of Mobile in Chicago
Smart Chicago, under Connect Chicago, will soon start to work on a Mobile Toolkit. The goal of the Mobile Toolkit will be to help people leverage the power of their mobile devices. While many people don't like the idea of relying on their mobile devices only, that is the reality for many in Chicago. How can we meet people where they are and help them navigate online banking, job applications, security, and cost savings when they rely on mobile platforms?
29% of 1,000+ people in @CUTGroup cite "public wifi" or "phone with data plan" as primary connection to the internet. pic.twitter.com/kWgDnYvfyL — Smart Chicago (@SmartChicago) September 25, 2015
Sitting w/homeless man-smart, struggling. Helping him access services-watching him struggle on mobile-just like #connectchicago convo 2day

— Heidi Massey (@HeidiEKMassey) November 12, 2015
During the discussion portion of the Connect Chicago Meetup, participants brainstormed what a hypothetical "mobile toolkit" would train people in. Representatives from Smart Chicago, Chicago Public Library branches, Galvanize Labs, the Nonprofit Connection, Hooray for Learning, Chicago Defender Charities, the Chicago Department of Innovation and Technology, and other institutions came up with a great list of potential trainings:
A lesson or tool on where to find free Wi-Fi in Chicago A lesson or tool on where to find free public computing in Chicago 

A lesson or tool on how to forward a resume and other important documents when someone switches between a mobile phone and public computing 

Privacy on your Mobile Device 101

A  lesson on Data Usage 101 – what each type of action on your phone impacts your data plan and your expenses

A  lesson or set of trusted tools that help people save money on their mobile phones (coupons, deals, etc.)

Lessons on how to use Chicago-centric mobile apps
The working idea is that all of these trainings would be mobile-friendly videos for mobile users. We also suspect that a mobile toolkit would be useful even to those with broadband in the home.
To learn more about the November 12th Meetup, see the presentation and the notes.