The National Neighborhood Indicators Partnership (NNIP) is a network of trusted city organizations committed to collecting, analyzing, and sharing neighborhood data in service to their communities. Partner organizations convene twice a year to share their work and collaborate on topics from policing to tracking investments in neighborhoods. Last week, I attended the NNIP meeting in Dallas, Texas.

It's worth noting that the humans behind the number crunching and data visualizations were of extremely high quality. I was struck by the camaraderie, creativity, city pride, and good ole fashioned work ethic coursing through the NNIP culture.
Our first #NNIP t-shirt exchange. pic.twitter.com/tBnq96MZKR

— NNIP HQ (@NNIPHQ) October 23, 2015
It's also worth noting that any conference or meeting that starts with a "what's your favorite dataset?" icebreaker is just awesome.
"favorite dataset" will never stop being my favorite ice breaker. 🙂 #nnip https://t.co/yqyiw1rNMa — Eleanor Tutt (@eleanortutt) October 21, 2015
Smart Chicago dream dataset is on internet access and price…. #nnip #yesplease

— April Urban (@AprilHirsh) October 21, 2015
Here's a look at the major themes that arose throughout the three days of conversations, panels, and tours.
Neighborhood Data Needs Context
It was no accident that presenters from Dallas, Austin, and other cities had trouble making sense of neighborhood indicators without also nodding to historical and social context.
COH's Susan Millea presenting on health inequalities in Austin using @statesman video on segregation history #NNIP pic.twitter.com/uwEQXn8khf — COH (@VisualizeCOH) October 22, 2015
The first panel of the NNIP meeting was just as much about the origins of geographic inequity as it was about the data of geographic inequity. Nakia Douglas of the Barack Obama Male Leadership Academy, John Fullinwider of Lumin Education, Regina Montoya of the Mayor's Poverty Task Force in Dallas, Theresa O'Donnell of the City of Dallas, and Donald Payton of the African American Genealogy Interest Group discussed the city's "divides" – especially the prominent north-south divide.  The panel pointed out that these modern inequalities stem from both historical and present racial discrimination.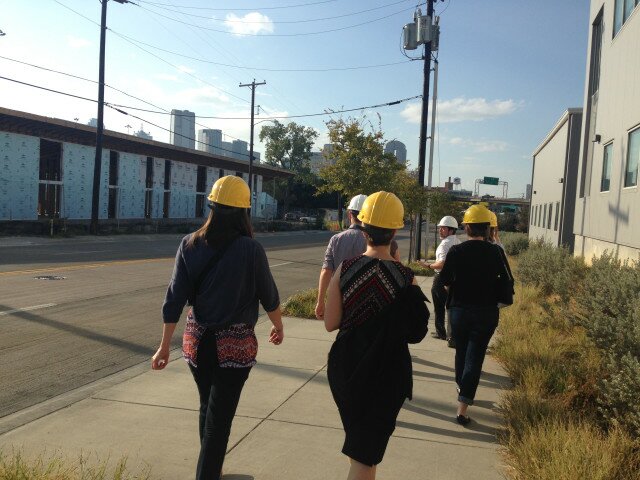 Living out this need for context, NNIP scheduled tours in Dallas. I had the opportunity to visit the Cottages at Hickory Crossing, the city's first Housing First community. The 50 approximately 400 square foot single occupancy homes are for the homeless, mentally ill, and previously incarcerated. Future residents of the Cottages will have access to a suite of supportive on-site health and social services.
We walked through the construction, asked questions, and learned about the evaluation plans paired with the program. Even before the residents have moved in, the Cottages are planning an evaluation of the initiative – tracking resident outcomes and savings to Dallas taxpayers, for example. Residents are those who incur the highest cost to taxpayers by remaining homeless, less healthy, and less supported.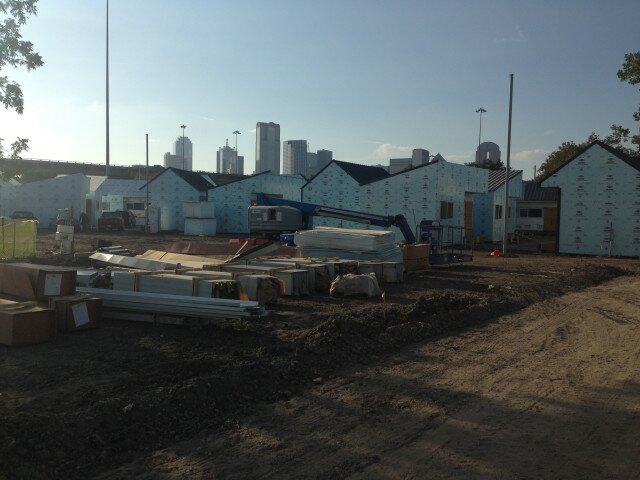 By the way, the Cottages at Hickory Crossing have their own Target registry if you would like to help furnish the homes!
NNIP Partners as Local Leaders & Conveners
Several NNIP partners discussed how they lead the conversations and collaborations around data within their cities. Many hold "Data Days" – events usually involving trainings and/or collaborations around neighborhood datasets of interest. Milwaukee's Impact Inc. is holding their first Data Days this week. Charlotte, NC held their Data Days earlier in October.
One of the most interesting examples of data leadership? Every month Cleveland's NNIP partner, the Center on Urban Poverty and Community Development at Case Western University, convenes all of the city's organizations that collect data so they can share their work and build up a citywide data catalogue.
Cleveland's NERDS model for local data collaboration is amazing – I want to learn more! I second the request for a blog post #NNIP @NNIPHQ

— Denise Linn (@DKLinn) October 22, 2015
To accomplish their local work, NNIP partners form strong, trusted relationships with government agencies, police departments and other public collectors of data. During the meeting, partners what it took to open up in-demand local data and information for residents. One of my favorite insights came from Data-Driven Detroit (D3) who shared concrete advice for cities working with police departments to open up data.
Strategies for success from @D3detroit re: opening up policing data in your city #NNIP @ericaraleigh pic.twitter.com/zlHoKcZu6q — Denise Linn (@DKLinn) October 22, 2015
Going forward, I hope NNIP partners can continue to discuss how data can build and repair community relationships in our cities. In Chicago there is so much work to do in this area. Data can be open and free, but if residents don't trust it, there is still work to be done. Our own Kyla Williams spoke to this on social media while following the NNIP meeting remotely:
Interesting. In Chicago people don't trust the police or the data, so how do you proceed? @DKLinn @SmartChicago @cwardell @InnovFellows — Kyla (@SmartChgoKyla) October 23, 2015
Data for Local Action
NNIP isn't just about the data for data's sake; it's about turning data into informed local action. At the end of the day, if the data aren't useful, used, or noticed then they are worthless. It's all about democratizing information for community empowerment and smart policy decisions. This theme echoed several times throughout the NNIP meeting. One example was in Impact, Inc.'s mantra: "No data without stories, no stories without data."
.@IMPACT_Inc involves residents in their work – no data without stories, no stories without data #NNIP pic.twitter.com/TJl95c8WEF — Denise Linn (@DKLinn) October 23, 2015
During the meeting, NNIP dared its partners to make their tech ecosystem. What does that mean? It means taking inventory of information lifecycles in your city and where residents and local organizations fall in those process maps. After all, it's not enough to know how data is collected, analyzed, and repurposed; cities also need to know how neighborhood indicators and data stories can be turned into smart policy changes and smart local programs.
Civic tech and data ecosystem mapping workshop at #nnip pic.twitter.com/dGsOlnpHDC — Bob Gradeck (@BobGradeck) October 22, 2015
Here at Smart Chicago we're also been thinking about ecosystem definition, turning data into action, and formulating meaningful resident engagement around Chicago's data work. Between Array of Things, WindyGrid, and last year's Chicago School of Data, there's a lot to talk about! There are also essential Chicago partners with excellent neighborhood data: DePaul's Institute for Housing Studies, the Woodstock Institute, and the Heartland Alliance. We need to work together to centralize our neighborhood data, engage with residents and make sure that Chicago isn't just a "smart city," but a smart city that works for everyone.
Great that our panelists acknowledge that technology can't solve all problems but it can be a powerful tool to help #NNIP — NNIP HQ (@NNIPHQ) October 23, 2015
NNIP as a Community of Learning
The NNIP meetings are called "meetings" and not conferences for a reason. There was a palpable roll-up-your-sleeves attitude across the participating partners. I heard stories of people traveling to friends and collaborators in other cities to help replicate successful work nationally. Again, this is a great group of humans.
Love hearing stories of cross-city #NNIP partnerships that have spread #opendata across the US cc @BobGradeck pic.twitter.com/OXF2dsCLBm — Denise Linn (@DKLinn) October 22, 2015
@BobGradeck @DKLinn @AprilHirsh @eleanortutt @IMPACT_Inc @NicWillMoe @NNIPHQ now us newbies get it…this network is essential! — DataSpark (@DataSparkRI) October 26, 2015
Those of us visiting NNIP or attending for the first time certainly saw the value of these meetings. Collecting, using, and disseminating neighborhood data to improve your city can be slow work with long-term gains. Having a supportive national network facilitating peer learning seems like an essential ingredient to progress.
Always sad when #NNIP time ends. Thanks for the inspiration everyone! Esp @NNIPHQ for all their hard work! Now the homework starts — April Urban (@AprilHirsh) October 23, 2015
Well said, April! Let the homework begin!
To see all NNIP documentation on the Dallas 2015 meeting, see their website.