On April 4th, Illinois Humanities hosted "Big Data & the Public Good" at the School of the Art Institute of Chicago. The event overviewed the Array of Things urban sensing project and facilitated a conversation on the role of technology in contemporary society. Smart Chicago's Executive Director Dan O'Neil moderated the event. The featured presenters were Douglas Pancoast and Marissa Lee Benedict.
.@simonhnyi is introducing tonight's @ILhumanities program on Array of Things. #datademocracy pic.twitter.com/GD9o3FyQVW

— Sonja Marziano (@ssmarziano) April 4, 2016
This program was organized by the School of the Art Institute of Chicago and was supported in part by the Robert R. McCormick Foundation. On the event website, the event's framing questions on big data, technology, and democracy were listed: 
What is the relationship between information technology, urban space, and the public good in the age of big data? Where do "smart cities" initiatives like the Array of Things – which doesn't collect any information about individuals – fit into contemporary conversations about privacy and surveillance? How can the arts and humanities help our society think through these issues?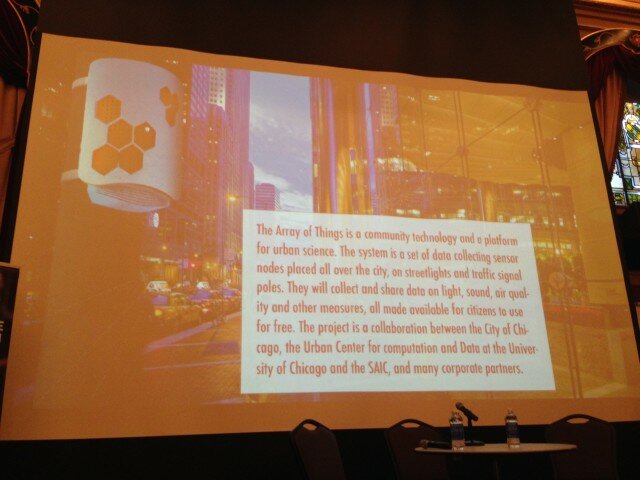 Douglas Pancoast, an Associate Professor of Interior Architecture and Designed Objects at the School of the Art Institute of Chicago, designed the Array of Things sensor enclosures along with Satya Mark Basu. Pancoast gave background on the project and shared the evolving iterations of the design:
The evolving versions of the #ArrayofThings sensor by @saic_news #IoT #datademocracy @ILhumanities pic.twitter.com/K23vcbCpHC

— Denise Linn (@DKLinn) April 4, 2016
Pancoast overviewed the functionality of the Array of Things nodes — that they will measure air quality, standing water, noise pollution, wind, light, pedestrian traffic, and other environmental factors. Wired Magazine called Array of Things a "Fitbit for the City."
The second speaker, Marissa Lee Benedict, gave an artist's perspective on Array of Things. Benedict is a lecturer at the School of the Art Institute of Chicago in Sculpture and Fiber & Material Studies, and works as the Program Coordinator for the Arts, Science & Culture Initiative at the University of Chicago. As an artist, Benedict can approach technology with a different perspective — she can see the art in data and fiber-optic cables. She can also assist with activist gestures in a way other people working with technology cannot.
When I see fiber infrastructure, I see opportunity, speed, innovation. Some people see art. #ftth #datademocracy pic.twitter.com/xNTarL9ckx

— Denise Linn (@DKLinn) April 5, 2016
What is the value of open data from urban sensors?
Several themes arose from the audience questions at the event. The first theme centered on the expected benefits of Array of Things and the data it would produce.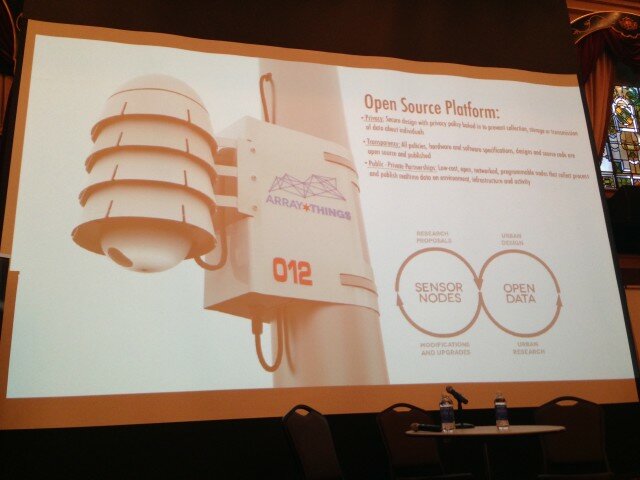 Pancoast pointed out that society has always placed value in creating and investing in archived, searchable collections of information. Organizing and sharing the data produced from an urban sensing project arguably has the same societal value of building and filling a library with books.
Still, communicating the value of collecting data through urban sensors also means articulating compelling, relevant use cases of the data. The value of open data from this smart city infrastructure is less clear unless there are specific examples of how data can be turned into local action:
Americans are pretty split on their comfort level of the gov't collecting big data. @ILhumanities #DataDemocracy pic.twitter.com/x0GBsvMCTd

— Angel Ysaguirre (@afraidoffun) April 5, 2016
Pancoast shared several problems that could be identified and illuminated by Array of Things data. Some examples:
Understanding how exhaust activity at O'Hare impacts surrounding property values

Understanding how noise pollution in certain areas of the city should impact zoning

Understanding the source of standing water
One specific case highlighted was Albany Park. Albany Park has a high incidences of flooding. If we could watch it, monitor where the water goes, how long it takes to evaporate and see how it correlates to other environmental factors, the problem can be better defined.
Engagement & Participation
Of course, problem identification isn't enough to catalyze change. Communities have to be involved and empowered to act on the new information. In this light, another main theme from the event was resident engagement: what type of engagement is needed, who to engage with, and how to do it well. Specifically, there was an interest in how Chicagoans might broadly engage with the Array of Things project outside of targeted efforts in schools and youth programs. At Smart Chicago, we are committed to this broad engagement with urban sensing and the Internet of Things.
Benedict shared the following thought-provoking questions with the audience: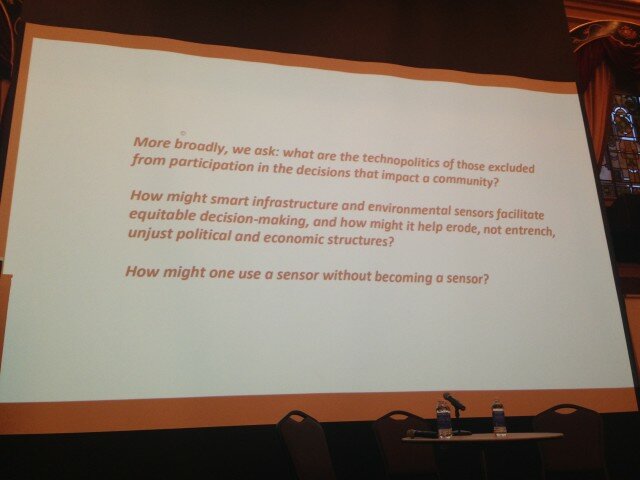 Dan O'Neil shared some of the best practices that Smart Chicago has gleaned: do engagement work as openly as possibly, document your process and planning, invite everyone, and "fetishize the outputs." One recent example of model of engagement is Smart Chicago's work with the Chicago Police Accountability Task Force Community Forums.
#DataDemocracy how are you engaging with the public? Smart Chicago has found be as open as possible, fetishize input pic.twitter.com/zacT63UiZQ

— Illinois Humanities (@ILhumanities) April 5, 2016
#DataDemocracy in engagement we shld be as rigorous in gathering data arnd all we do – did we offer food, what venue pic.twitter.com/VRi3LdypYY

— Illinois Humanities (@ILhumanities) April 5, 2016
This event facilitated an interesting conversation about data, participation, and urban sensors — a conversation that needs to be continued openly, interactively, and across different venues in Chicago. Smart Chicago is committed to broad community engagement on the Array of Things project. To learn more about this work, visit our project page.