Cheers to Four Years
In 2013 with the generous support of the Otho S. A. Sprague Memorial Institute, the Chicago Health Atlas debuted as the number one resource and repository for health data in Chicago. The Atlas displayed huge amounts of data so that residents could take action to improve their own health, including detailed pages for every hospital in Chicago.
In September 2016, Health & Disability Advocates (HDA) and Chicago Department of Public Health (CDPH) added a new data set to the Chicago Health Atlas. This addition made demographic and population health data available by Hospital Service Area. Next up, the 75 indicators from the Healthy Chicago 2.0 plan were added to the Atlas. This section allowed CDPH to publicly display the progress of the indicators for plan goals and for residents to follow.
"This new data set is the first time, to our knowledge that population health has been made available at the Hospital Service Area level. These data will help hospitals in their efforts to better understand the needs of the communities they serve, not just their own patients."- Erica Salem, MPH, Director of Strategic Health Initiatives, Health & Disability Advocates.
On Thursday, October 12th the  City of Chicago's Public Health Department celebrated the launch of the new Chicago Health Atlas. The new Atlas was originally previewed during the Health Chicago 2.0 one-year anniversary event in held late May.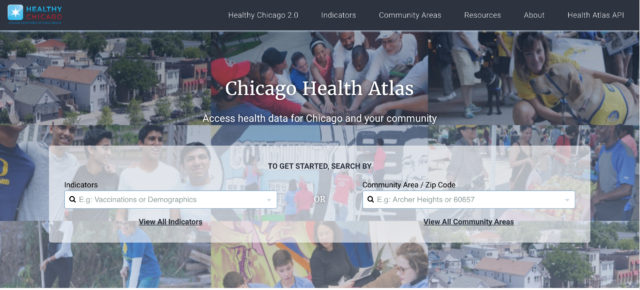 To date 174 strategies first identified in the plan or (76%) have been implemented or are in progress. Healthy Chicago 2.0 is guided by four key principles; Healthy Chicago 2.0 prioritizes health equity, Healthy Chicago emphasizes collaboration, Healthy Chicago 2.0 addresses root causes of health and Healthy Chicago 2.0 leverages data.
"The Chicago Health Atlas is a key component of our citywide Healthy Chicago 2.0 strategy. Not only does it provide a direct portal for partners, funders and policy makers to access data, but it pr it in an intuitive interface that allows users to create visualizations in real time. This tool will help groups across the city, from government agencies like ours to neighborhood organizations to make more informed decisions that will lead to better health outcomes for all".– Chicago Department of Public Health Commissioner Julie Morita, M.D
What Does the New Atlas Offer?
Today, the new Chicago Health Atlas has increased functionality, including data visualization at the community level, the ability to print and/or download raw data and a link to resources by community and, the Health Atlas also maps over 20,000 community resources through data provided by MAPSCorps, a non-profit organization that delivers hands-on STEM training for youth through neighborhood asset mapping. This partnerships marks the first time MAPSCorps data will be used by the City of Chicago for distribution to the public.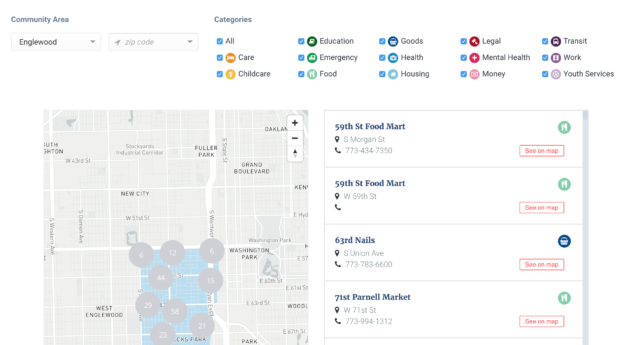 "Information is power and MAPSCorps is committed to providing communities across Chicago with quality information about community assets to support residents' well-being," said MAPSCorps Executive Director Andres Alvear.
If You Build It They Will Come
With continued support from the Otho S. A. Sprague Memorial Institute, development of the new Health Atlas began in the summer of 2016 with the City of Chicago Department of Public Health, the Smart Chicago Collaborative and the development team at Dom and Tom. This team set out to integrate feedback from users, the Healthy Chicago 2.0 data and ease of use for the city's consumers of health data.
This integrated process was coordinated by the Smart Chicago team; and after hundreds of hours of targeted weekly meetings, countless video conference calls, revising of data templates and intense discussions around quality and quantity of information the Atlas was ready to be tested.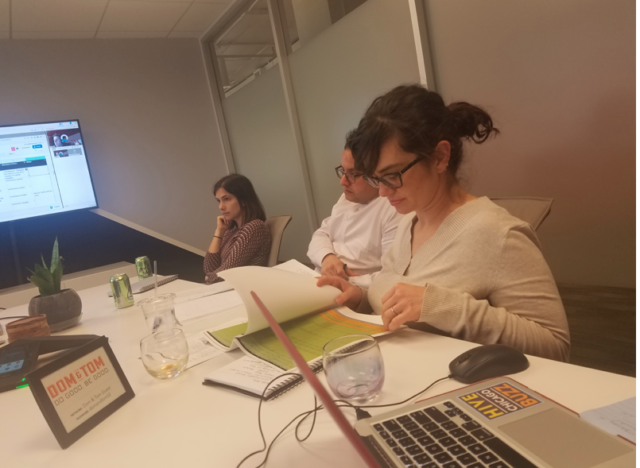 In Spring of 2017 the Smart Chicago Collaborative conducted the first of a series of usability tests for the new Atlas with volunteers from Chicago's Health and Human Service community.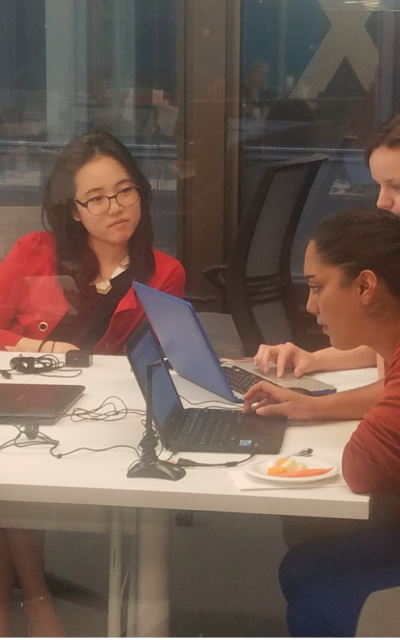 The feedback from the initial round of user testing was aggregated and used to inform the future design and further development of the Atlas. The fixes, updates and changes are logged and managed in the smartchicago/chicago-atlas GitHub repository. This repository allows the team to address issues quickly and categorizes others for future updates and enhancements. We are encouraging prototypes of health solutions for our region using the Atlas and its data as a tool.
CDPH is currently planning community based user testing opportunities so that  residents can give feedback on the usability of the tool in help inform future enhancements. These community based events will also provide more focused insight into how residents react and interact with the information that is available on the Atlas.
For example, we are equally as interested in what a parent looking for a resource for childcare in their community has to say, and the researchers who may use the Atlas for the development of policy for specific health related issues.
Sprague Executive Director, James N. Alexander says of the Atlas,
"The Chicago Health Atlas emerged from the need of the community's public health leaders to have better data for their program and policy work. Portraying complex data through maps and charts to assist the broader community in understanding health patterns and empower wellness was seen as the complementary benefit of an on-line Atlas. By inviting all those with health data to contribute to the expansion of The Atlas, The Institute also achieves its mandate to investigate the cause of disease and prevent and relieve human suffering."- Otho S. A. Sprague Memorial Institute Executive Director, James N. Alexander
Our hope is that you will use this data to both better understand health in Chicago and identify opportunities to improve health and well-being.
The Chicago Health Atlas is, by design, an evolving tool. Through new and continued public-private partnerships, improved data and continuous updates to the site, we will be better equipped to understand and improve our city's health.
"The Chicago Health Atlas meets our shared goal of making information more transparent and accessible for all residents. Congratulations to the Smart Chicago Collaborative, CDPH and all our partners for not just creating a new and necessary asset for our city, but creating an example for all other cities to follow".– Chicago Mayor Rahm Emanuel
For more information regarding the Health Atlas or if you have feedback, questions or ideas or are interested in becoming a data partner for the Atlas, please email us at HealthyChicago2.0@cityofchicago.org or Leslie.Durr@UILabs.org. The Smart Chicago Collaborative is now co-located with City Digital at UI LABS at 1415 N. Cherry Ave., Chicago, IL. 60642.
Follow us at: Twitter: @ChiPublicHealth; @smartchicago;  @SmartChiLeslie; @UILABS_